WORKSHOP TOURS FOR SCHOOL GROUP
Group of 30 students max - Free admission, advance booking
Telephone: 91 566 65 44
museocasadelamoneda@fnmt.es
The Casa de la Moneda Museum offers this course of
workshop tours free of charge
in order to adapt the content of the Museum to students aged
between 3 and 18
.
These tours can be booked for the permanent exhibition or a temporary exhibition, and consist of a special activity at the Museum, focusing on an approach to the exhibition, making educational use of play to reinforce creative expression, encourage teamwork and respond to different educational goals.
PERMANENT EXHIBITION
From ages 3 to 8
To adapt the workshop tour to younger children, there is a short, dynamic tour of the Museum, with emphasis on the graphics of the pieces, and guiding the children to make their own "silver" or "gold" coin.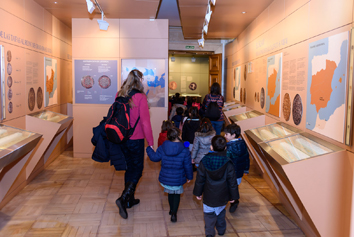 From ages 9 to 13
Children in this age group will be immersed in the four main cultures on display at the Museum in their tour of the history of money, by making costumes and accessories to help them connect with the exhibition and gather the clues necessary to share them with the group.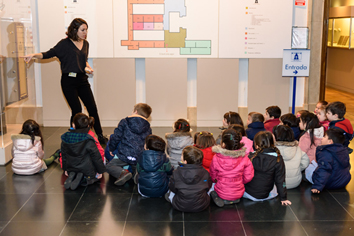 From ages 14 to 18
For older visitors the Museum has set up a treasure hunt covering the current monetary system and the history of money, with challenges, points and final prizes.